SEASON: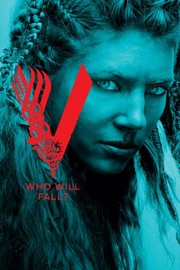 TOMATOMETER
——
Average Episode Score:
N/A
AUDIENCE SCORE
Critic Consensus: Vikings returns for another season of fantastic performances, epic battles, and sharp writing sure to please its barbarous hordes of fans.
Episodes
Air date: Feb 18, 2016
In the Season 4 premiere, a dangerously ill Ragnar returns to Kattegat, where his suspected death kicks off a scramble to succeed him. Meanwhile, Lagertha engages in a power struggle with her calculating, former second in command, Kalf; Rollo betrays his heritage and remains in Frankia; and Floki pays the price for his brutality against the Christian priest.More
Air date: Feb 25, 2016
As Ragnar and Floki remain at odds in Kattegat, Rollo makes great efforts in Paris to win over his new bride, Princess Gisla. Bjorn's survival skills are put to the test in the wilderness, while King Ecbert sets the task for his son Aethelwulf to rescue Queen Kwenthrith from opposing forces in Mercia. -- (C) HistoryMore
Air date: Mar 3, 2016
Ragnar tells Floki of a heavy price he has paid for his actions but as Floki remains a prisoner, a mysterious visitor to Ragnar counsels mercy. Intrigue prevails at the French Court as Rollo finds an unlikely ally in Count Odo, but can't escape the contempt of his new bride. Bjorn must fight a fierce opponent in the wilderness but will he survive the threat that Erlendur and Kalf are sending his way? -- (C) HistoryMore
Air date: Mar 10, 2016
A Norwegian king and Bjorn, who is accompanied by a new partner, are welcomed to the Great Hall in Kattegat; King Aelle arrives at Wessex for Christmas and is unimpressed with the development of family relations. Meanwhile, in Paris, Rollo's future depends on whether he can win over his new bride, as a papal delegation arrives to arrange a divorce.More
Air date: Mar 18, 2016
Betrayal is in the air at the Court in Paris and Wessex as trusted people plot against Odo, while Ecbert agrees to throw his support to Kwenthrith in Mercia. Meanwhile, Ragnar reveals his deepest secret to Yidu; pregnancy brings happiness to Lagertha and Kalf; and an arranged marriage doesn't come on as planned.More
Air date: Mar 25, 2016
At the Thing in Kattegat, Ragnar reveals his plan to raid Paris again, and, although the fleet is storm-tossed as it sets out, the challenge lies in France, where Rollo awaits. Meanwhile, Ecbert dispatches Aethelwulf and Alfred on a pilgrimage to Rome.More
Air date: Mar 31, 2016
In England, King Ecbert schemes to secure the crown of Mercia, while outside Paris, a considerable force of Vikings attack Rollo's defenses. Also, the mysterious wanderer Harbard returns to Kattegat and causes a stir among the women.More
Air date: Apr 7, 2016
Ragnar's leadership is called into question after their defeat, evacuation and retreat down-river, although he does have a plan that he keeps under wraps. Rollo and Gisla have information that will strengthen Rollo's position at the French court, while Count Odo is slow to identify his true enemies, which could have serious consequences.More
Air date: Apr 14, 2016
As they near Paris, the Vikings relaunch their boats, but this time they bear interesting structures made by Floki; Aethelwulf and Alfred arrive in Rome, where honors are bestowed by Pope Leo, but in Wessex, relations are less than cordial between King Ecbert and a disgruntled King Aelle.More
Air date: Apr 21, 2016
Victory proves costly in the battle between the Vikings and the French as Ragnar squares off against Rollo, sealing the fates of the two brothers.More
Show More Episodes
Vikings: Season 4 Trailers & Photos
Tv Season Info
Series 4 begins with Ragnar Lothbrok learning to deal with his new role as King, and he watches his back from King Ecbert who might threaten his plans of peace.
News & Interviews for Vikings: Season 4
Friend Ratings for Vikings: Season 4
No Friends? Inconceivable! Log in to see what your friends have to say.
Login
Audience Reviews for Vikings: Season 4
Discussion Forum
Discuss Vikings on our TV talk forum!