Great News: Season 2
(2018)
SEASON: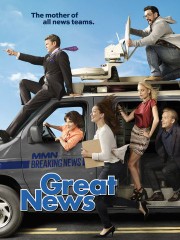 Episodes
Air date: Sep 28, 2017
In the Season 2 premiere, "The Breakdown" gets a new boss, a tough business lady with big plans to bring the outdated news program into the 21st century. Katie is thrilled since this is the kind of strong, professional female role model she hoped for, but Carol is immediately wary of this new influence in Katie's life. Meanwhile, Chuck has trouble adapting to Diana's idea for a new panel segment of screaming pundits.More
Air date: Oct 5, 2017
Katie tries to be executive producer for the day, soon realizing that Greg has it much harder than she realized. Meanwhile, Carol uses Greg and Katie's workplace competition as an opportunity to push the two of them together.More
Air date: Oct 12, 2017
Diana has been promoted again, this time to the head of the corporation that owns MMN, but before she leaves she finds herself embroiled in a sexual harassment scandal. This leaves Katie unsure who to believe, her mentor or her friends in the office. Carol becomes head intern and struggles to prove to the other interns, and herself, that she deserves the job.More
Air date: Oct 19, 2017
Katie tries to stop her mother from attending an award show, but is unsuccessful when Carol secures a position as a seat-filler.More
Air date: Oct 26, 2017
Katie realizes that while she has been working her way up at MMN, her friends have been getting married, having kids, and buying houses in New Jersey. She feels pressure to impress them on Instagram with her hip New York City lifestyle and lucks into going to a very cool Halloween party with Portia. Meanwhile, Chuck has been asked to use a new smart screen on the show, and in an attempt to get out of this seemingly impossible task, tries to convince Carol that it is possessed.More
Air date: Nov 2, 2017
Jeremy invites Katie to do some "real reporting" and go on a stakeout with him. Carol is suspicious and kidnaps Greg to stake out the stakeout. The two discover that it may not be all business between Jeremy and Katie. In other events, Chuck meets Carvell, who is Portia's fiancÚ, and the two of them form an unlikely friendship.More
Air date: Dec 21, 2017
Carol finds herself in a reverse "Christmas Carol" during which she learns that she has too much Christmas spirit and is driving everyone around her insane. Meanwhile, Chuck's estranged son, Petey, visits the office and Katie, who has been charged with babysitting him, tries to get the father and son to reconnect.More
Air date: Dec 21, 2017
Carol and Chuck don't think they should have to attend Sensitivity Training and decide to teach the rest of the "snowflakes in the office" a lesson. Katie is excited about her new boyfriend, Jeremy, but Portia suspects Katie might just be a sidepiece.More
Air date: Dec 28, 2018
Carol is devastated to learn that her parents are getting a divorce after 70 years of marriage. Katie, still hurting from her breakup with Jeremy, is convinced that love is dead, but Carol is determined to prove that it's never too late to have a happy ending. Meanwhile, Chuck discovers that the reason for Justin's newfound happiness is the cute new barista at the coffee shop and proceeds to compete for her affection at the expense of his and Justin's friendship.More
Great News: Season 2 Trailers & Photos
Tv Season Info
A mother interns at her daughter's workplace, a cable-news network, in this comedy that explores mother-daughter relationships. Tina Fey is an executive producer.
News & Interviews for Great News: Season 2
Friend Ratings for Great News: Season 2
No Friends? Inconceivable! Log in to see what your friends have to say.
Login
Audience Reviews for Great News: Season 2
There are no featured audience reviews yet. Click the link below to see what others say about Great News: Season 2!
Discussion Forum
Discuss Great News on our TV talk forum!